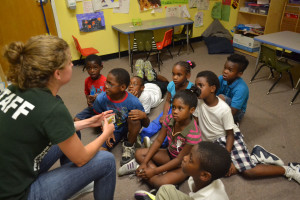 Peacemakers Family Center located in South Rocky Mount will again host an enrichment program called Freedom School for 110 kids each weekday this summer from June 16 through August 6. "The program has gained so much popularity over the past few years due to the progress young scholars have made in reading over the summer, while having fun and learning life lessons and values that we had to turn away more than 115 applicants this year," Peacemakers Executive Director Jesse Lewis said.
Using curriculum designed by the Children's Defense Fund, Freedom School helps rising first through ninth graders fall in love with reading, increases their self-esteem, and generates more positive attitudes toward learning. Local children are taught using a model curriculum that supports children and families around five essential components: high quality academic enrichment; parent and family involvement; civic engagement and social action; intergenerational leadership development; and nutrition, health and mental health.  The program is sponsored by a number of private foundations, government agencies, and individuals.
Participants are pre and post-tested to document their progress over the eight weeks. Data from last year show an average reading score increase of one grade level. "Many children who participated last year, demonstrated a desire to spend time reading, when they had minimal or no desire to read at the beginning of the program," Lewis said. Additionally, improvements are made in level of self-confidence including better self-perceptions of identity, ability to succeed academically, desire for future positive growth and understanding of career options available to them.
At Freedom School, children are engaged in activities that nurture their minds, bodies, and spirits. In the classrooms, they read books that celebrate a wide variety of cultures and experiences focusing on the theme I Can Make a Difference. The program also offers parents and family members the support and skills they need to help their children succeed. Staffed by college-age young adults committed to making life better for children, trained staff and volunteers help make Freedom School possible. Additionally, two nutritious meals meeting USDA nutritional standards, and a snack, are offered each day the program is in operation.
Peacemakers is a Christian community development 501c3 organization serving the under-resourced area of South Rocky Mount, by empowering citizens with the knowledge and skills necessary to lead successful and sustainable lives. Peacemakers strives to tangibly demonstrate the love of Jesus Christ in such a way that it results ultimately in the complete transformation of the community and its people.  The organization believes wholeheartedly in the importance of collaboration, working with other organizations to further the impact of its services. For more information email info@rockymountpeacemakers.org, call 252-212-5044 or visit www.rockymountpeacemakers.org. Gifts of support are accepted throughout the year online, by mail to: 1725 Davis Street, Rocky Mount, NC 27803 and in person.