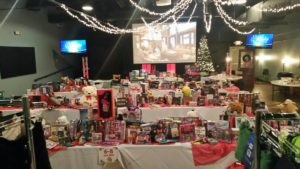 Peacemakers is holding its Second Annual Christmas Toy Store December 8 and 9. Last year, through the generosity of individuals and organizations in the Rocky Mount community and the tireless efforts of many volunteers, Peacemakers of Rocky Mount helped 250 families. This year, 345 families purchased 4,100 toys for their children at the Christmas Toy Store.
"Christmas is a tough time for many low-income families. Parents often lack the resources to provide gifts for their children. Most charitable organizations try to meet this need by adopting families for Christmas, and delivering wrapped presents to the home just before the holiday. A generous and well-intentioned approach, it can also have unintended consequences," Peacemakers Executive Director Jesse Lewis said. "Instead, Peacemakers operates a Christmas Toy Store."
For this outreach, local churches, organizations, and individuals donated new, unwrapped toys to Peacemakers, with price tags still attached. Peacemakers then repriced the items at 80 percent off. Invitations were sent to local low-income families based on school social worker and local agency referrals, and those families shopped at the "store".
"Our Toy Store features free wrapping stations so parents can wrap the gifts they purchase. They take pride in carefully selecting, purchasing and wrapping the gifts for their children," Lewis said. The small amount of revenue collected goes directly back into other Peacemakers programming.
Volunteers helped reprice donations, set up and decorate the store, and worked as cashiers, greeters and shopping helpers, baking cookies and serving refreshments. Additionally, volunteers assisted in the children's craft room where young guests made special gifts for their parents.
"Because of local contributions, Peacemakers helps address critical need, serving the South Rocky Mount community in many ways all year long," Lewis said. "As an organization, we are dependent on the financial generosity of individuals and organizations in the Twin Counties. So, we say "Thank You". For more information about the organization or year-end giving, please visit 
rockymountpeacemakers.org
 or call Jesse Lewis at 252.212.5044.