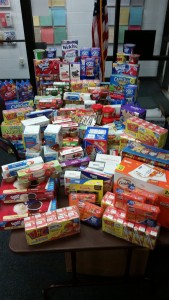 Nash Community College student clubs recently led a food drive competition to collect snack foods for Peacemakers' Freedom School. The Math and Science Club won the competition collecting the most food.
Peacemakers is a community development organization serving the under-resourced area of South Rocky Mount to empower members of the community with the knowledge and skills necessary to lead successful and sustainable lives.
Freedom School is an eight-week, full-time summer enrichment program that helps children with reading, strives to increase their self-esteem, and has been shown to generate positive attitudes toward learning. Children are taught using a model curriculum that supports children and families around five essential components: high quality academic enrichment; parent and family involvement; civic engagement and social action; intergenerational leadership development; and nutrition, health and mental health.
Approximately 110 school-age children will benefit from Freedom School in  South Rocky Mount this summer. Food collected by Nash Community College students will be utilized for snacks twice each day for Freedom School participants. Pictured from left, Nash Community College Senior Director of Marketing and Communication and Peacemakers Board Member, Kelley Deal, and Peacemakers Executive Director Jesse Lewis.