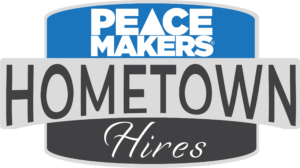 Hometown Hires is a holistic job training and employment program that seeks to partner with families as they move out of generational poverty through job training, education and a network of community partners.
There are many people who are actively seeking employment, but face barriers such as criminal backgrounds, racial inequality, histories of drug abuse, domestic violence, and/or homelessness.
Because of this, people struggle with living the best life possible. Hometown Hires seeks to remove these barriers. We have networked with local agencies and employers to create a program that partners with you and your family to get you where you want to be.
STEP 1
We start with Career Boot Camp. Career Boot Camp is a week-long job-readiness course. In this course we cover: strategic planning, resume basics, job search strategies, professional dress and image, interviews, handling barriers to employment, communication, strategic thinking about the future and final preparations.
STEP 2
Once you finish Career Boot Camp, we will continue to partner with you through the provision of job referral and leads related to your skill set. Until you obtain employment, you will attend weekly workshops and "check-ins", have use of our computer lab, access to GED classes, and transportation vouchers as needed.
STEP 3
After obtaining employment you will be eligible for our life skills program, which meets one evening a week. This program will equip you to be even more successful in your work and home life!
SIGN UP FOR OUR NEXT BOOTCAMP!
COST OF THE PROGRAM?
THE PROGRAM IS FREE!
REQUIREMENTS
To be eligible for this program you should be actively seeking employment or be ready to begin your job search.
VOLUNTEER
Do you work in human resources? Business? Finance? Do you have a passion for perseverance and hard work? We could use your help!