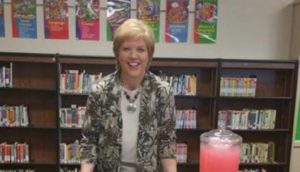 The Millie S. Morris Scholarship was established in March in memory of Mildred "Millie" Shields Morris of Red Oak. Morris was a long-time educator in Edgecombe County and Nash-Rocky Mount Public Schools who passed away in June 2016. The scholarship is administered through Peacemakers of Rocky Mount.
Morris was a devoted Christian who possessed a great passion for educating young children and was known for her heart of compassion for the students and families she served, particularly those from economically-disadvantaged households. "Millie Morris' legacy will continue for many years to come, as children in South Rocky Mount pursue higher educational opportunities, and make a positive impact on our community," Peacemakers Board Chair, Kelley Deal said.
The Millie S. Morris Scholarship Fund awards a $1,000 scholarship annually to a student attending a two or four-year accredited institution of higher learning. Students who reside in the South Rocky Mount Community, and who have been accepted to an accredited two or four-year college or university, may apply for the scholarship. The recipient must have a minimum high school grade point average of 3.5 on a scale of 5.0, or 3.0 on a scale of 4.0.
"The scholarship is reserved for students who demonstrate financial need, academic accomplishment, and community involvement," Deal said. Interested individuals should complete an application available at Peacemakers, provide a letter of recommendation, and submit a required essay on the topic "How do we differentiate right from wrong?"
Millie Morris was educated in the Rocky Mount city schools, and then graduated from Appalachian State University with a Bachelor of Science in Elementary Education and later became a National Board Certified Teacher. She taught in Edgecombe and Nash County schools until she retired in 2015.
Applications for the 2017-2018 academic year should be submitted by 5:00pm on May 12, 2017 in person at Peacemakers, 1725 Davis Street, Rocky Mount, NC during normal business hours, or by email to jesse@rockymountpeacemakers.com. The scholarship will be awarded on or before May 25, 2017.
Peacemakers is a Christian community development organization serving the under-resourced area of South Rocky Mount with a mission to empower members of the community with the knowledge and skills necessary to lead successful and sustainable lives. For more information, call (252) 212-5044 or visit rockymountpeacemakers.org.