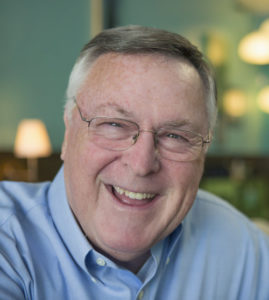 Peacemakers of Rocky Mount will host its annual Hope Banquet fundraiser Thursday, October 5, 2017 at 7:00 PM at Englewood Baptist Church in Rocky Mount.
"This will be an incredible evening as we come together to celebrate the great things God is doing in South Rocky Mount through Peacemakers and look forward to promising plans for the future," Executive Director Jesse Lewis said. "We are particularly excited to hear from this year's keynote speaker, Dr. Robert Lupton."
Over forty years ago Dr. Lupton left a budding business career to live and work in inner-city Atlanta with delinquent urban youth and rebuild urban neighborhoods. As a result, families and children in need are being empowered to grow into healthy, productive adults, positively changing the culture around them. Dr. Lupton is a Christian community developer and entrepreneur who brings together communities of resource with communities of need.
Lupton has developed two mixed income subdivisions, started a number of businesses, created housing for hundreds of families and initiated a wide range of human services in his community. He is author of several books including the widely read, Toxic Charity, Theirs is the Kingdom, Renewing the City, and the widely circulated "Urban Perspectives", a monthly reflection on the Gospel and the poor. Bob released a new book in July 2015 titled, Charity Detox. He holds a Ph.D. in psychology from the University of Georgia. At the banquet, Dr. Lupton will share his experience discussing ways to structure programs that improve the quality of the life of the poor and disenfranchised.
For $240, table sponsors will receive eight seats with dinner catered by Something Different. Individual seats are $30 each. The deadline for table sponsorship is Thursday, September 28, 2017.  For more information contact Donna Clifton at252.212.5044 or donna@rockymountpeacemakers.org.
Peacemakers is a Christian non-profit organization serving South Rocky Mount with a mission to empower members of the community with the knowledge and skills necessary to lead successful and sustainable lives.