More than 200 volunteers from the Kate B. Reynolds Charitable Trust, Peacemakers of Rocky Mount,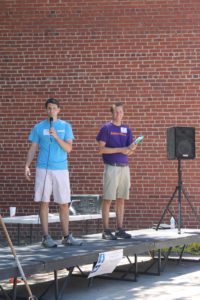 organizers from KaBOOM! and the community joined forces Saturday to give area kids the childhood they deserve by building a new playground at Peacemakers of Rocky Mount.
The design is based on children's drawings created at a special design event in April.
A playground serves as more than a playground — it is also a brain-expander, friend-maker and muscle-builder. Play is central to a child's ability to grow into a productive adult. It can transform children from sedentary, bored and solitary to physically, mentally and socially active.
Since 1996, KaBOOM! has been dedicated to the goal of giving all kids – particularly those growing up in poverty in America – the childhood they deserve, filled with balanced and active play so they can thrive. With its partners, KaBOOM! has built, improved and opened nearly 16,300 playgrounds, engaged more than one million volunteers and served 8.1 million kids.
The new playground at Peacemakers will bring more than 730 kids in Rocky Mount one step closer to having the play-filled childhood they deserve.There had been no playground at Peacemakers of Rocky Mount. In building this play space together, these organizations are making it easier for all kids to get balanced and active play.
The playground is the third of four being built in the Twin Counties and the twelfth overall by KaBOOM! and the Kate B. Reynolds Charitable Trust as part of Healthy Places NC, a long-term Trust initiative to improve the health of 10 to 12 rural North Carolina counties over the next decade. The Kate B. Reynolds Charitable Trust supports KaBOOM! in promoting and protecting children's rights to active play at home, at school and in the community.
Peacemakers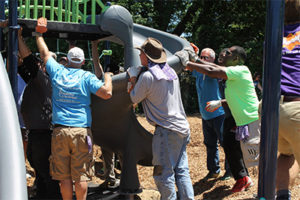 is a Christian community development 501(c)3 organization serving the under-resourced area of South Rocky Mount by empowering residents with the knowledge and skills necessary to lead successful and sustainable lives.
The Kate B. Reynolds Charitable Trust was established in 1947 and is now one of the largest private trusts in North Carolina. Its mission is to improve the quality of life and quality of health for the financially needy of North Carolina.