Freedom School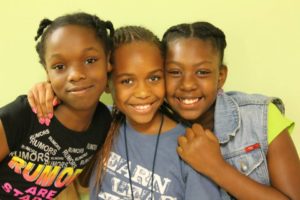 Freedom School is a seven-week summer enrichment program that helps young scholars fall in love with reading, increases their self-esteem and generates more positive attitudes toward learning.  On average the scholars that come through our Freedom School program will raise their reading levels 14 months or higher.
For summer 2020, Freedom School will operate somewhat differently to accommodate requirements for social distancing and limited mass gatherings.  Parents will be able to choose one of two half-day sessions:  our morning session, running 8:00am – 11:30am or our afternoon session, running 12:00pm – 3:30pm.
Freedom School begins June 15th and ends July 31.  We will operate every day, Mondays – Fridays, except for July 3rd.
Our normal $35 registration fee has been waived for this summer.  Any parents that have already paid the registration fee may contact our office for a refund.
Sign your child up immediately by clicking the application link below!
The health and safety of our program participants, guests, neighbors, volunteers and staff is of utmost importance to Peacemakers.  Please click the link below to review our health protocol for this summer.
After School Program

Peacemakers offers a free after-school program for 40 neighborhood elementary school students.
The program provides homework assistance, individual tutoring on skills that need remedial help, and a snack.
It is offered four days a week, two hours per day, during the school year.
Book Parties
On the third Saturday of each month, Peacemakers offers free Book Parties to neighborhood children.
The kids receive lunch, listen to a read-aloud guest, engage in fun activities, and choose several books they are able to take home and keep.
Low-income families generally do not have age-appropriate reading material in the home for the children, and the goal of this program is to build an age-appropriate in-home library of reading material for the child, which will have long-term academic benefits.
Computer Lab
Peacemakers features an open-access 14-unit  Windows-based computer lab that is open to anyone six days per week.
Neighborhood children use the lab to work on school work, while many adults use it to complete online job applications.
The lab is also available for recreational use.